Sort
Featured
Newest
Best selling
Price, low to high
Price, high to low
Sort
Featured
Newest
Best selling
Price, low to high
Price, high to low
Regular price

Sale price

$250

Liquid error (snippets/price line 78): divided by 0% off

Unit price

per

Multiple Colors

+Quick add

Regular price

Sale price

$310

Liquid error (snippets/price line 78): divided by 0% off

Unit price

per

Multiple Colors

+Quick add

Regular price

Sale price

$140

Liquid error (snippets/price line 78): divided by 0% off

Unit price

per

Multiple Colors

+Quick add

Quick add

Regular price

Sale price

$200

Liquid error (snippets/price line 78): divided by 0% off

Unit price

per

Multiple Colors

+Quick add

Quick add

Regular price

Sale price

$140

Liquid error (snippets/price line 78): divided by 0% off

Unit price

per

Multiple Colors

+Quick add

Quick add

Regular price

Sale price

$250

Liquid error (snippets/price line 78): divided by 0% off

Unit price

per

Multiple Colors

+Quick add

Regular price

Sale price

$360

Liquid error (snippets/price line 78): divided by 0% off

Unit price

per

Multiple Colors

+Quick add

Regular price

Sale price

$120

Liquid error (snippets/price line 78): divided by 0% off

Unit price

per

Multiple Colors

+Quick add

Quick add

Regular price

Sale price

$209

Liquid error (snippets/price line 78): divided by 0% off

Unit price

per

Multiple Colors

+Quick add

Quick add

Regular price

Sale price

$120

Liquid error (snippets/price line 78): divided by 0% off

Unit price

per

Multiple Colors

+Quick add

Quick add

Regular price

Sale price

$120

Liquid error (snippets/price line 78): divided by 0% off

Unit price

per

Multiple Colors

+Quick add

Quick add

Regular price

Sale price

$175

Liquid error (snippets/price line 78): divided by 0% off

Unit price

per

Multiple Colors

+Quick add

Quick add

Regular price

Sale price

$360

Liquid error (snippets/price line 78): divided by 0% off

Unit price

per

Multiple Colors

+Quick add

Regular price

Sale price

$150

Liquid error (snippets/price line 78): divided by 0% off

Unit price

per

Multiple Colors

+Quick add

Quick add

Regular price

Sale price

$220

Liquid error (snippets/price line 78): divided by 0% off

Unit price

per

Multiple Colors

+Quick add

Regular price

Sale price

$150

Liquid error (snippets/price line 78): divided by 0% off

Unit price

per

Multiple Colors

+Quick add

Quick add

Regular price

Sale price

$120

Liquid error (snippets/price line 78): divided by 0% off

Unit price

per

Multiple Colors

+Quick add

Quick add

Regular price

Sale price

$120

Liquid error (snippets/price line 78): divided by 0% off

Unit price

per

Multiple Colors

+Quick add

Quick add

Regular price

Sale price

$150

Liquid error (snippets/price line 78): divided by 0% off

Unit price

per

Multiple Colors

+Quick add

Quick add

Regular price

Sale price

$309

Liquid error (snippets/price line 78): divided by 0% off

Unit price

per

+Quick add

Regular price

Sale price

$240

Liquid error (snippets/price line 78): divided by 0% off

Unit price

per

+Quick add

Regular price

Sale price

$320

Liquid error (snippets/price line 78): divided by 0% off

Unit price

per

+Quick add

Regular price

Sale price

$319

Liquid error (snippets/price line 78): divided by 0% off

Unit price

per

+Quick add

Regular price

Sale price

$410

Liquid error (snippets/price line 78): divided by 0% off

Unit price

per

+Quick add

Regular price

Sale price

$430

Liquid error (snippets/price line 78): divided by 0% off

Unit price

per

+Quick add

Regular price

Sale price

$260

Liquid error (snippets/price line 78): divided by 0% off

Unit price

per

+Quick add

Regular price

Sale price

$390

Liquid error (snippets/price line 78): divided by 0% off

Unit price

per

+Quick add

Regular price

Sale price

$260

Liquid error (snippets/price line 78): divided by 0% off

Unit price

per

+Quick add
No results found
Jacket Size Guide
Ready Size(US)

To determine the best size for you, measure your chest and choose the size that corresponds to your measurement. If you are in between sizes, we recommend going up a size for a better fit.

Shoulder
Chest
(All round)

These measurements refer to the chest area of the Jacket

Stomach
(All round)

These measurements refer to the waist area of the Jacket

Sleeve Length
Jacket Length
36
17.5
39
36.5
23.5
28
38
18
41
38.5
23.5
28
40
18
43
40.5
23.5
29
42
18.5
45
42.5
24
29.5
44
19
47
44.5
24.25
30
46
19.5
49
46.5
24.5
30.5
48
20
51
48.5
25
31.5
50
20.5
53
51
25.5
31.5
52
21
55
53
25.5
32
54
21
57
55
25.75
32
56
22
59
57
25.75
32.5
58
22.5
61
59
26
33
60
23
63
61
26
33
62
23.5
65
63
26
33
Ready Size(US)

To determine the best size for you, measure your chest and choose the size that corresponds to your measurement. If you are in between sizes, we recommend going up a size for a better fit.

Shoulder
Chest
(All round)

These measurements refer to the chest area of the Jacket

Stomach
(All round)

These measurements refer to the waist area of the Jacket

Sleeve Length
Jacket Length
36
17.5
39
36.5
24
29
38
18
41
38.5
24.25
29
40
18
43
40.5
24.5
29.5
42
18.5
45
42.5
25
30
44
19
47
44.5
25.25
31
46
19.5
49
46.5
25.5
31.5
48
20
51
48.5
25.5
32
50
20.5
53
51
26
32.5
52
21
55
53
26
33
54
21
57
55
26.5
33
56
22
59
57
26.5
33.5
58
22.5
61
59
26.5
34
60
23
63
61
26.5
34
62
23.5
65
63
27
34
Ready Size(US)

To determine the best size for you, measure your chest and choose the size that corresponds to your measurement. If you are in between sizes, we recommend going up a size for a better fit.

Shoulder
Chest
(All round)

These measurements refer to the chest area of the Jacket

Stomach
(All round)

These measurements refer to the waist area of the Jacket

Sleeve Length
Jacket Length
36
17.5
39
36.5
24.75
29.5
38
18
41
38.5
25.25
29.5
40
18
43
40.5
25.5
31.5
42
18.5
45
42.5
26
31.5
44
19
47
44.5
26.25
32.5
46
19.5
49
46.5
26.5
33.5
48
20
51
48.5
27
33.5
50
20.5
53
51
27
34
52
21
55
53
27.5
34.5
54
21
57
55
27.5
34.5
56
22
59
57
27.5
35
58
22.5
61
59
27.5
35.5
60
23
63
61
27.5
35.5
62
23.5
65
63
27.5
35.5
Our Default is US Sizing
International Size Conversion
Europe
46
48
50
52
54
56
58
60
62
64
Trouser Size Guide
Ready Size(US)

Choose the waist size you usually buy for your pants from a store. Your actual pants will measure a few inches more than the selected Size.

Waist Circumference

This will be the actual circumference of the waist, which will be your actual waist measurement measured with a measuring tape

Pant Hip
Pant Thighs
Leg Opening
Front Rise
30
32
37
23.5
15.5
10.5
32
34
39
25
16
10.75
34
36
42.5
25.5
16
11
36
38
44.5
26.5
16
11
38
40
46.5
28
17
11.5
40
42
48.5
29
17
12
42
44
50.5
30
17.5
12.5
44
46
53.5
31
18
12.5
46
48
55.5
31.5
18
13
48
50.5
58
33
18.5
13.5
50
52.5
60
34.5
18.5
13.75
52
54.5
62
36
19
14
54
56.5
64
38
19.5
14.5
56
58.5
66
40
19.5
14.75
58
60.5
68
40
20
15
60
62.5
70
40.5
20
15.25
Our Default is US Sizing
International Size Conversion
Europe
46
48
50
52
54
56
58
60
62
64
Shirt Size Guide
| | | | | | | |
| --- | --- | --- | --- | --- | --- | --- |
| Size(US) | Shoulder | Front Length | Full Sleeve | Half Sleeve | Chest | Stomach |
| S (36) | 17 | 27 | 24.5 | 9 | 43 | 42 |
| M (38) | 18 | 28 | 24.75 | 9.25 | 45 | 44 |
| L (40) | 19 | 29 | 25 | 9.5 | 47 | 46 |
| XL (42) | 19.5 | 30 | 25.5 | 9.75 | 49 | 48 |
| XXL (44) | 20 | 31 | 25.5 | 10 | 51 | 50 |
| XXXL (46) | 21 | 32 | 26.25 | 10.5 | 53 | 52 |
| 4XL (48) | 22 | 32 | 26.5 | 10.75 | 55 | 54 |
| 5XL (50) | 22.5 | 32.5 | 27 | 11 | 57 | 56 |
Waist Coat Size Guide
| | | | |
| --- | --- | --- | --- |
| Size | Chest | Stomach | Length |
| 36 | 39.5 | 37 | 24 |
| 38 | 41.5 | 39 | 24 |
| 40 | 43.5 | 41 | 24.5 |
| 42 | 45.5 | 43 | 25 |
| 44 | 47.5 | 45 | 26 |
| 46 | 49.5 | 47 | 26.5 |
| 48 | 51.5 | 49 | 27 |
| 50 | 54 | 51 | 28 |
| 52 | 56 | 53 | 29 |
| 54 | 58 | 55 | 29 |
| 56 | 60 | 57 | 29.5 |
| 58 | 62 | 59 | 29.5 |
| 60 | 64.5 | 61 | 30 |
| 62 | 66.5 | 63 | 30 |
| | | | |
| --- | --- | --- | --- |
| Size | Chest | Stomach | Length |
| 36 | 39.5 | 40 | 23.5 |
| 38 | 41.5 | 39 | 23.5 |
| 40 | 43.5 | 41 | 24 |
| 42 | 45.5 | 43 | 24.5 |
| 44 | 47.5 | 45 | 25.5 |
| 46 | 49.5 | 47 | 26 |
| 48 | 51.5 | 49 | 26.5 |
| 50 | 54 | 51 | 27.5 |
| 52 | 56 | 53 | 29 |
| 54 | 58 | 55 | 29 |
| 56 | 60 | 57 | 29 |
| 58 | 62 | 59 | 29.5 |
| 60 | 64.5 | 61 | 30 |
| 62 | 66.5 | 63 | 30 |
| | | | |
| --- | --- | --- | --- |
| Size | Chest | Stomach | Length |
| 36 | 39.5 | 37 | 24.5 |
| 38 | 41.5 | 39 | 24.5 |
| 40 | 43.5 | 41 | 25 |
| 42 | 45.5 | 43 | 25.5 |
| 44 | 47.5 | 45 | 26.5 |
| 46 | 49.5 | 47 | 27 |
| 48 | 51.5 | 49 | 27.5 |
| 50 | 54 | 51 | 28.5 |
| 52 | 56 | 53 | 30 |
| 54 | 58 | 55 | 30 |
| 56 | 60 | 57 | 30.5 |
| 58 | 62 | 58 | 31 |
| 60 | 64.5 | 61 | 31.5 |
| 62 | 66.5 | 63 | 31.5 |
Cap Size Guide
To measure your head size get a soft tape measure.
Measure around your head above your ears and eyebrows where your hat would normally sit.
If your head size falls between two sizes, we recommended that you choose the larger size of the two.
If you like loose fit? then please adjust the soft measuring tape in a loose way.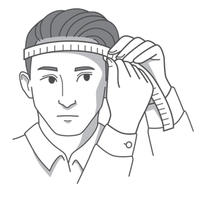 | | | | |
| --- | --- | --- | --- |
| Hat Size Us | Hat Size Modern | Head Size cm's | Head Size inches |
| 6 3/4 | S | 54 | 21 1/8 |
| 6 7/8 | S | 55 | 21 1/2 |
| 7 | M | 56 | 21 7/8 |
| 7 1/8 | M | 57 | 22 1/4 |
| 7 1/4 | L | 58 | 22 5/8 |
| 7 3/8 | L | 59 | 23 |
| 7 1/2 | XL | 60 | 23 1/2 |
| 7 5/8 | XL | 61 | 23 7/8 |
| 7 3/4 | XXL | 62 | 24 1/4 |
| 7 7/8 | XXL | 63 | 24 5/8 |
| 8 | XXL | 64 | 25 |
| 8 1/8 | XXL | 65 | 25 1/2 |
Kids Size Guide
| | | | | | | |
| --- | --- | --- | --- | --- | --- | --- |
| Age | Jacket Length | Chest | Shoulder | Sleeves | Pants Waist | Pants Length |
| 12m | 16 | 22 | 11 | 11 | 16-19 | 20 |
| 18m | 17 | 24 | 11.5 | 12 | 17-20 | 21 |
| 24m | 18 | 26 | 12 | 13 | 18-21 | 22 |
| 4 | 19.5 | 28 | 13 | 15 | 22-24 | 26.5 |
| 5 | 20.5 | 30 | 13 | 15.5 | 23-25 | 28 |
| 6 | 21.5 | 31 | 13.5 | 16.5 | 24-26 | 29 |
| 7 | 22.5 | 32 | 13.5 | 17.5 | 25-27 | 30 |
| 8 | 23.5 | 33 | 14 | 18.5 | 26-28 | 32 |
| 10 | 25 | 34 | 14.5 | 19.5 | 27-29 | 34 |